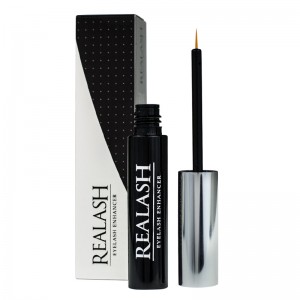 Great nourishment and extra eyelash care are the representative features of Realash eyelash conditioner. Ingredients like glycerine, officinalis flower extract, arvense leaf extract and many other high quality substances are responsible for the nutrition of eyelashes. What is more, Realash composition is also able to lengthen eyelashes. Although the extension is not extraordinary, due to the eyelash conditioner, the eyelashes become moisturized and full of life. Moreover, the consistency of the product deserves applause since it is not too dense.
However, unskilled users might experience some problems connected with the application since the cosmetic might drip from the applicator.
With this in mind, one has to perform simple, rough movements to apply Realash eyelash conditioner on upper eyelids flawlessly. Most consumers are also spellbound with the package. A simple white and blue cardboard box containing the bottle stands proud on chemist's selves surrounded with other medicaments.
Despite Realash design that can be related with a kind of healing potion, the product might cause irritations in the beginning of the treatment. The truth is, the possibility of discomfort appearance is fairly possible. Additionally, the effects that are supposed to be produced are not always achieved in 100%. It may be related with personal predispositions and body reaction on Realash composition.
Realash Ingredients (INCI): Aqua, Propanediol, Panthenol, Glycerin, Biotinoyl Tripeptide-1, Acorus Calamus Root Extract, Acrylates/C10-30 Alkyl Acrylate Crosspolymer, Calendula Officinalis Flower Extract, Dechloro Dihydroxy Difluoro Ethylcloprostenolamide (Ethyl Tafluprostamide), Disodium EDTA, Ethylhexylglycerin, Equisetum Arvense Leaf Extract, Hydrolyzed Silk, Linum Usitatissimum Seed Extract, Phenoxyethanol, Propylene Glycol, Serenoa Serrulata Fruit Extract, Sodium Hyaluronate, Sodium Hydroxide.
POSITIVES
Fairly extended lashes
Nourishment and eyelash care
Consistency
Package
NEGATIVES
High possibility of irritation
Tough application

Does not bring 100% effects